Nursery & Classes
Sunday Morning RE Programs
Nursery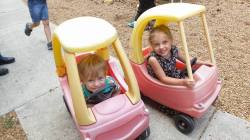 Our nursery is open from 9:30 am through 12:30 pm. Infants from birth through 2 years old are lovingly cared for by our nursery staff every Sunday. We have rocking chairs, appropriate toys, and a diaper-changing area. Please introduce yourself and your child to our caregivers and take some time to help your child feel at home. Bring any special items (marked with the child's name) that will help him/her feel happy and secure.
You may also choose to keep your child with you during the service. In addition, the E. E. Cummings Room at the back of the sanctuary is a place where you can both see and hear the service while your child has a bit more freedom to move around. Our sound system also allows you to listen to the service from the comfort of the nursery.
We require parents to let our childcare staff know how to locate you. When you sign your child in, please indicate where you expect to be in our building, set your cell phone on vibrate, and leave your number. We also ask that you list who will be picking up your child.
Note to parents: Our regular caregivers are paid by TVUUC to ensure that we always have a minimum level of responsible staff on duty, but we occasionally need additional help from parents and other adults to be sure that we have an adequate number of caregivers for the number of children present. In the event that the childcare area reaches the maximum number of children per adult, our staff will post signs on the doors indicating that no more children can be accepted without an additional volunteer.
Pre-School – Room F – We Are Many, We Are One
This class accepts children 3 and 4 years of age by August 15th, 2017.
This engaging program encourages young children to learn how to play and work cooperatively, appreciate how we are all alike yet different, and celebrate many different religions and cultures of the world.  Recognizing that direct experience is the best teacher, "We Are Many, We Are One" nurtures our children's creativity, spiritual growth, and connection to the Unitarian Universalist community by inviting them to participate in "hands-on" ritual-games, rhymes, songs, crafts, and other fun activities.  Parents are encouraged to assist in this classroom.
Kindergarten and 1st Grade – Room D – Spirit Play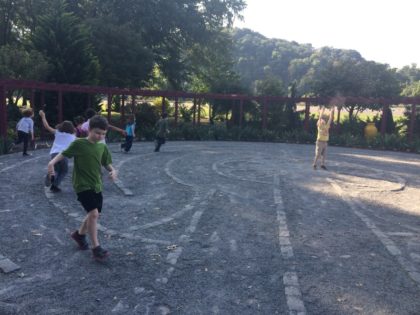 This class accepts children enrolled in Kindergarten by August 15th, 2017.
This is a Montessori-based experience that encourages independent thinking by placing the core stories of our faith into the hands and minds of our children. The focus of "Spirit Play" is learning to create and discover meaning by responding to stories with wondering questions, art, drama, and creative play. Stories this year focus on themes from our UU Principles (called Promises in Spirit Play), helping participants make meaning of their lives, grow a strong UU identity, and create a spiritual community together that honors multiple learning styles and celebrates beauty in diversity.
2nd and 3rd Grade – Room E – Signs of our Faith:Being UU Everyday/Moral Tales

We'll begin our year with a curriculum that engages children in exploring ritual practices of our faith.  Rituals – the "signs of our faith" – are defined broadly, so that naming and dedicating a baby is a ritual, but so too is befriending a new child at school.  Children will discover evidence of their faith in everyday actions and are encouraged to form positive behaviors into habit, such as caring, welcoming, and making fair group decisions.  This curriculum asks young people to see themselves as leaders and co-creators of our living UU faith.  Then in the second half of the year we'll engage with wisdom stories from many faith traditions and cultures, cultivating open minds and hearts and honoring the origins of each tale.  The spiritual, ethical and moral guidance offered (such as "do no harm," "welcome one and all," and the Golden Rule) can help them make choices and take actions reflective of their UU beliefs and values.
4th and 5th Grades – Room C -The UUniverse Story

This program is designed to nurture a sense of awe and wonder for the world around us, engaging our UU Principles and values as we explore the Big Bang and the origins of the Universe, the chemistry of life, the ideas of evolution and change over time, and the interconnectedness of all people from our shared ancestry with each other and every other life form on the planet. Carl Sagan was being quite literal when he said, "We are all made of star stuff."  What kid wouldn't be fascinated to know that every atom in our bodies was cooked up in the thermonuclear cataclysm of exploding stars billions of years ago? This year we'll extract strands of DNA from strawberries, create oxygen like Unitarian minister and scientist Joseph Priestley, the first person to do so in the lab, and will identify stars in the sky from which the light that is just now reaching us has been speeding across outer space since the day class members were born.  We'll trace our family trees back through generations of human and proto-human ancestors to mammals all the way to the single-celled bacteria that all living things share as common ancestors.  And by always asking: "How do we know what we know?", this curriculum offers not only a greater understanding of the world, but a deep sense of reverence for life and our place within all that is.
Middle School Programs
6th, 7th and 8th Grades – Room B – Neighboring Faiths
Meets Sunday mornings at 11:00 AM
This year's middle school class takes participants outside of our own walls to learn about the world's religions through direct engagement and building connections with people from other religious traditions.  Participants will reflect on the unique and universal of religious experience, explore their own values as they relate to many other faith traditions as well as our UU faith, and increase their appreciation of religious diversity. We can only be good neighbors to those in the many faith traditions in our community if we know something about them and recognize our common humanity and search for how to live meaningful lives. This year's program will focus on non-Abrahamic, Asian and earth-based religious traditions.
Middle School Youth Group – Room A

Middle schoolers meet on 2nd & 4th Wednesdays of the month from 6:30-8:00 to build connections with one another, engage our UU values, be of service to our community, and most of all, have fun!
High School Programming
9th – 12th Grades — Room A – High School Forum
Meets Sunday mornings at 11:00 AM
This forum empowers teens, with the guidance of adult advisors, to create their own vision and mission for their program.  High school youth will explore what it means to be young and UU, how our UU principles inform how we live our lives, and what power young UU's have to change the world.
Senior High Youth Group – Room B
The YRUU Youth Group meets every Wednesday evening from 6:30 until 8:30 pm. High schoolers meet on Wednesday evenings for a youth group that offers a safe and welcoming space for all, rooted in our shared UU values, and offering opportunities for building community, engaging in service, crafting worship, organizing for justice, developing leadership, and celebrating being young and being UU together. This is primarily a youth driven time and is facilitated by the Youth Program Coordinator and volunteer Youth Advisors.
Save